Taking Back Hope: 71 Graduates Celebrate Successes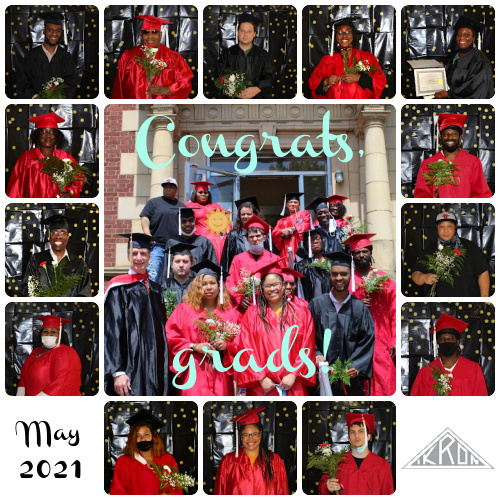 We're delighted to resume our usual schedule of two graduations every year in 2021, with our first graduating class of 71 individuals celebrating their successes on May 21, 2021.
In order to graduate from IKRON, a participant must do one of three things: 1) Start a new job; 2) Obtain a GED or other high school diploma; or 3) Enroll in higher education.
IKRON Executive Director Randy Strunk said at graduation, "We've had students come in saying, 'I'm not going to achieve my goals. I just don't have any more hope.' One thing that we say to those students is, 'Here at IKRON, if you don't have any hope, let us hold on to it for you for a while until you're ready to take that hope back.' I know that you all have taken that hope back and have hope for your futures and achieving your goals."
IKRON's May 2021 graduates include four participants who studied hard to earn a GED, and many new employees at businesses around Greater Cincinnati including Dubois Book Store, Sky Zone, the Public Library of Cincinnati and Hamilton County, WARMLINE, and many more. IKRON participants polish resumes, practice good interview skills, follow up on leads with their job developer, and brush up their skills in IKRON's computer lab on their road to meeting their employment goals and taking back their hopes for the future. They aren't stopped by setbacks, but push through with the determination that will serve them well on the job.
We're honored to be able to celebrate with these successful participants. Congratulations, IKRON graduates!
IKRON's next graduation is October 22, 2021.