Success: From Surgery to Service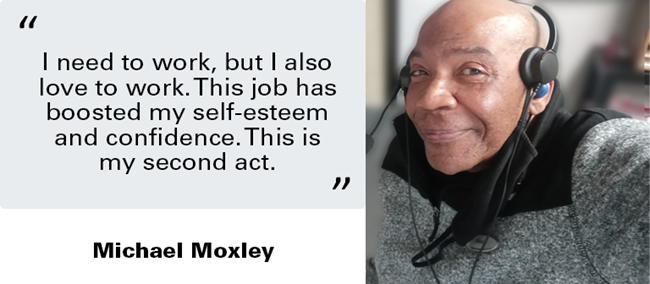 In June, OOD Works featured a story about IKRON client Michael Moxley and his journey from double hip surgery to his current job of customer service representative:
Michael Moxley is 64 and lives in Cincinnati. While taking a class to improve his computer literacy skills in 2021, his instructor encouraged him to apply to Opportunities for Ohioans with Disabilities (OOD) for services. Michael's employment had been impacted by the pandemic, and he was recovering from double hip surgery. Amy Stullenberger, OOD Vocational Rehabilitation Counselor, connected him with Employment Services Specialist Beth Maltry from IKRON, who helped him with job development.
Beth helped Michael put together his work history and resume which included a long career in customer service, including positions with Hamilton County Job & Family Services, Convergys, and the Global Data Collection Company (GDCC). Beth also assisted him with online applications and helped prepare him for virtual interviews, something he had never experienced before. 
Last September, Michael took part in an OOD Virtual Hiring Event, where he interviewed with the Hyatt Regency in Cincinnati. Michael was offered a job in October as an Internal Hotel Operator. He now works 20-30 hours a week at a desk and is the first point of contact customers have with the hotel. The job utilizes his customer service and computer skills, and he enjoys talking with customers, every day.
Read the rest of Michael's story in OOD Works' June edition here. We're so honored to have been part of Michael's journey!
Are you looking for employment services in Cincinnati? Call IKRON at 513-621-1117 to schedule an intake and talk about what you're looking for.