Looking Back, Moving Forward: 2018 Annual Meeting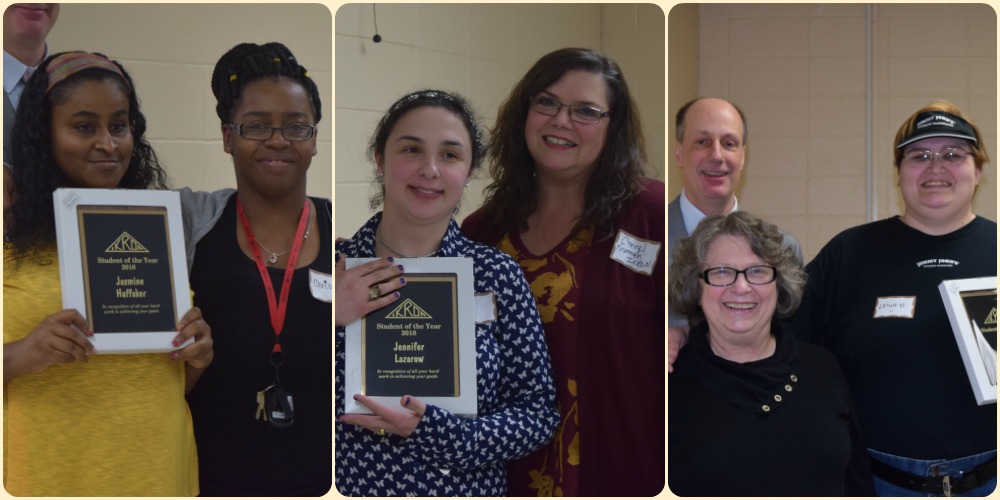 Once a year, IKRON's board, staff, friends, and other partners gather to consider the year behind and look forward to what's ahead. We celebrate successes and set new goals. And we take the time to give honor where it's due.
IKRON is pleased to honor Compass Group USA as our Employer of the Year. Over the past three years, Compass Group has hired 20 IKRON participants. Sometimes an employer will have difficulty seeing past a person's disability, which makes employers like Compass Group so valuable to our community. Compass Group has interviewed IKRON participants who have many different barriers to employment: physical disabilities, mental health struggles, and more. In every case, the Compass Group interviewer has not only treated that participant with respect and courtesy but has also gone out of their way to make the individual feel that they'd come to the right place to apply.
IKRON is delighted to name Cincinnati Parks as our Partner of the Year. Through volunteer days in parks around the city, and special events like the Krohn Conservatory Butterfly Show, IKRON participants have had many opportunities to learn and use new skills in neighborhood parks. We're especially pleased when we get the chance to help brighten up Inwood Park here in our own neighborhood, so that participants can continue to see and enjoy the fruits of their labor as they come and go from the IKRON building.
We're also happy to announce three students of the year—participants who have demonstrated their commitment to their own futures through their hard work and determination to succeed. Congratulations Jasmine Huffaker, Jennifer Lazarow, and Leigh Nemmer.
Executive Director Randy Strunk told the assembled honorees and guests, "Next year IKRON celebrates 50 years. In that time, we've seen folks come in with serious barriers to getting jobs, and we've seen them overcome those barriers and not only get jobs, but also continue to grow and advance." Randy added, "We've seen folks move on from homelessness, complete a GED, earn a higher education degree, and achieve competitive employment. I look forward to what we can achieve in the next 50 years."
During FY 2017, 1,366 youths and adults with severe mental illness and/or substance use problems were referred to IKRON. Many of our participants receive multiple services, making the most of the opportunity to address what is standing in the way of a better future. Of those who utilized employment services, 61% found jobs—a rate that is nearly three times the national average. Additionally, IKRON is a proud partner in the City of Cincinnati's Hand Up Initiative (HUI). Of our participants who found a job as part of the HUI program, over 50% had to address multiple barriers to employment, and they did so successfully.
IKRON consistently ranks as a top agency in Hamilton County for improving quality of life and reducing symptom distress for our participants. We're proud of our participants, staff, partners and employers, and our participants' support networks of family and friends for working so hard to achieve these goals.
IKRON Board President Neal Shah said at the close of the evening, "These are fantastic times for this organization. It's one of my great honors to serve in this role."
You can be part of providing this opportunity for people in the Greater Cincinnati area with mental health and substance use barriers to employment. As many IKRON participants have proved, all they need is a chance! Volunteer or donate to help someone take that first step to a better life. Subscribe to the IKRON newsletter to stay up to date with what's happening with our Cincinnati programs.